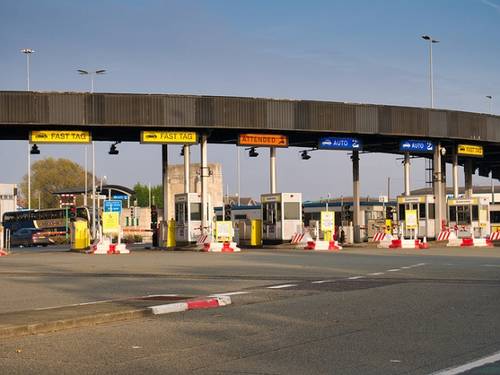 Road pricing
What is road pricing?
Road pricing is a system of charging drivers for their use of the roads, whereby frequent drivers pay more than infrequent drivers.
Normally, schemes are skewed to encourage drivers to use less congested routes or drive at less busy times. In this way supporters of road pricing claim it can reduce traffic congestion and is a fairer way of charging drivers than an indiscriminate road tax.
Why is road pricing becoming more topical?
Despite historically attracting widespread opposition, the question of road pricing is gaining greater traction as a potential policy option.
The UK was the first country in the world to legislate on reaching net-zero carbon emissions by 2050. Achieving this target will necessarily entail a transition away from petrol and diesel vehicles and towards electrical transport. To incentivise the purchase of lower-emission cars, the government announced has made fully electric vehicles exempt from benefit-in-kind (BIK) tax and road tax.
The Institute for Fiscal Studies commented that the combination of electrification and higher fuel-efficiency would cost the government £28 billion in lost fuel duty. The think tank envisages a long-term requirement for road charges on the grounds that, even if electric cars reduce pollution rates, the issue of congestion will likely worsen on account of sustained population growth.
To compensate for the perceived tax shortfall from petrol duty and road tax as a result of electric cars, the government is considering a number of road charge options, including the introduction of a national road-pricing scheme. Without road pricing, in February 2022, the Commons transport select committee suggesed the blackhole in its public finances would soon equate to £35 billion.
The Case for road pricing
Proponents of road pricing frame it as a fairer alternative to a flat tax. Existing and proposed road charging schemes reflect actual road usage, thus dis-incentivising superfluous travel and limiting congestion in particular areas. They also suggest that those who use the roads the most, would in practice pay the most for doing so.
A 2018 report by the International Transport Forum defends congestion pricing as an effective means of managing road capacity, arguing, "the alternative to pricing congestion is queuing".
From an environmental perspective, minimising congestion and enhancing traffic flow has been proven to produce fewer exhaust gas emissions per kilometre travelled and improve air quality. This is because vehicles burn more fuel, therefore producing more emissions, when accelerating up to speed. Reduced congestion likewise improves the driving experience for road users by reducing long waiting times in standstill traffic.
Just six months after the introduction of the London Congestion Charge, Transport for London published a report showcasing the benefits of that road charging scheme.
The report noted a 60,000 reduction in the number of cars entering the central zone, compared to the previous year. 50-60% of this decrease was attributed to transfers to public transport, 20-30% to alternative routes avoiding the zone, and the remainder attributed to car-sharing, travelling outside the operational hours, and increased use of bicycles. One year after the scheme's introduction, Transport for London recorded a 13.4% reduction in nitrous oxide in the original charge area and along the inner ring road.
In terms of urban planning, targeted road pricing manages the overuse of urban space, by encouraging a more even distribution of road space between drivers. This optimises existing road networks and reduces the demand for urban sprawl.
In July 2010 a report by RAC Foundation director Professor Stephen Glaister warned that a radical change in the way roads in England are managed and funded was vital if traffic gridlock was to be avoided in future years. The report, 'Governing and Paying for England's Roads', concluded that some form of 'pay as you go' system was "inevitable".
The report coincided with an Ipsos MORI survey carried out for the RAC Foundation which found that the majority of those asked were opposed to a national road pricing scheme. However, when it was explained that a charging system would be accompanied by a range of benefits, such as the abolition of VED and a cut in fuel duty, opposition fell away markedly.
Opposition to road pricing
The prospect of national road pricing has proved hugely controversial over the years.
In 2005, the then Labour Transport Secretary Alistair Darling proposed a national road pricing scheme, in which every vehicle would be installed with a satellite receiver. The device would calculate individual road charges varying from 2p per mile to £1.34 per mile on congested roads at peak times. However, the scheme was abandoned in response to an online petition attracting over 1.8 million signatures.
The petition stated: "The idea of tracking every vehicle at all times is sinister and wrong. Road pricing is already here with the high level of taxation on fuel. The more you travel – the more tax you pay. It will be an unfair tax on those who live apart from families and poorer people who will not be able to afford the high monthly costs."
Critics further noted that people in rural areas or, or those who have trouble accessing public transport have no choice but to drive and would face disproportionate charges.
The government maintained that road charging would be purely designed to tackle congestion, not act as a 'stealth tax' to raise revenue or track drivers via in-car technology.
Nonetheless, the public remained sceptical about the potential for a 'big brother' state and invasion of privacy. Road pricing would require drivers to install a tracking device in their car, prompting claims of an invasion of privacy. The government responded it would not be used to track drivers, nor would data from tracking boxes be used to prosecute speeding.
Proposed road pricing schemes have invariably raised the question of enforceability. Where vehicles are fitted with satellite receivers, would the owner be liable for the charge, or the person driving the vehicle at the specified time?
The most practical answer would be the owner, given the difficulty of identifying individual drivers and strong public objection towards the use of facial recognition software. However, this runs the risk of charging vehicle owners for journeys they were not party to. It likewise necessitates a complex operating system which links the receivers with the DVLA database, and which would struggle to identify foreign or rented vehicles.
In order for this system to take effect, advanced electronic systems would need to be installed on every UK-registered vehicle, in addition to CCTV cameras identifying vehicles which haven't fitted the device. At the time it was argued that the necessary enforcement costs of all this would likely outweigh the scheme's potential benefit. This is though something that may change as technology develops.
How road-pricing schemes work
To address growing social and environmental challenges, road pricing schemes are often designed to encourage drivers to use less congested routes or to drive at off-peak times.
As such, most road pricing schemes formulate charge rates based on the total distance travelled, the time of road use, and the social and environmental implications of using the road at a given time.
Across the world, road pricing schemes are administered through a range of national and localised models. These include:
Toll charges – Tolls that require vehicles to pay a set charge for use of a particular stretch of road. Toll gates are often located at bridge-crossings, at the entrance to tunnels, or at regional borders.
Self-declaration – this is the system underpinning the London Congestion Charge, which is usually paid online or by phone. Drivers can choose to pay the congestion charge in advance, on the day of travel, or up to three days after the day of travel. Drivers who fail to pay the charge will receive a penalty charge notice, much like a speeding ticket.
Automated Number Plate Recognition (ANPR) – whereby charges are assigned to vehicles based on their licence plate numbers. There are concerns that this can lead to abuse, through the prospect of faked or stolen plates.
Global Navigation Satellite System (GNSS) – involves satellite monitoring of a vehicle as and when it moves. This generates scope for sophisticated charging determined by vehicle location, model and fuel efficiency. However, it would be expensive to install on a national level, and raises concerns relating to public surveillance and the encroachment of a 'Big Brother' society.
History of Road-pricing in the UK
Road charges were historically limited in the United Kingdom to a few bridges and tunnels. However the prevalence of toll charges has been steadily increasing amounting to 23 schemes across the UK in 2019.
Commissioned by the Government to assess alternative road pricing methods, the Smeed Report of 1964 recommended the implementation of targeted congestion charges in densely populated urban areas. In 1973, a road pricing scheme was deliberated upon by the Greater London Council, but never came to fruition.
The UK's first congestion fee came into effect in 2002, when Durham County Council introduced a £2 charge for vehicular access into Saddler Street in the city centre.
Road Pricing in London
In 2003, the London congestion charge was enforced for use of a designated Congestion Charge Zone (CCZ) between 7:00-10:00pm.
The London low emission zone was introduced in phases between 2008-2012 to reduce gas emissions from diesel-powered commercial vehicles. This scheme was enhanced with the establishment of the Ultra Low Emission Discount (ULED) in 2013, which granted free access to the congestion zone to electric cars, certain plug-in hybrids and any vehicle emitting 75g/km or less of CO2 per year and which meets the Euro 5 emission standards for air quality.
In response to London's record-level air pollution levels, the London Mayor Sadiq Khan announced a new Toxicity Charge (T-Charge) in 2017. The T-Charge imposes additional congestion pricing of £10 on older petrol and diesel vehicles which do not meet Euro 4 standards. This broadly translates as all vehicles registered before the end of 2004, and was expected to affect some 10, 000 vehicles.
The T-Charge was replaced by the Ultra Low Emissions Zone (ULEZ) in April 2019, working alongside the London congestion charge to maintain low emission rates in the city centre. Only diesel vehicles compliant with Euro 6 standards are exempt from charges in the Ultra Low Emission Zone – generally those registered after 2015. Concessions are also granted to petrol cars graded at Euro 4 or higher (most registered after 2005, and some earlier). Hybrids, plug-in hybrids and electric cars are all exempt from the charge.
Non-exempt vehicles driving into central London will be subject to both congestion pricing. For the average road user, this equates to £12.50 for the ULEZ and £15 for the Congestion Charge. The two charges currently cover the same geographical area. However, the ULEZ is due to expand in 2021.
Road Pricing in Scotland
Under the Scotland Act of 1998, responsibilities for parts of the transport system were passed to the Scottish Parliament.
There have been no toll roads or bridges in Scotland since they were abolished in 2008. Scrapping of the tolls was a manifesto commitment by the SNP during the 2007 Scottish elections. However, there are plans to introduce Low Emission Zones (LEZs) to improve air quality in Aberdeen, Dundee, Edinburgh and Glasgow by 2022. Vehicles that do not meet the emission standards will pay a penalty charge when entering the LEZ.
Road Pricing in Wales
Under the Government of Wales of 1998, responsibilities for parts of the transport system were passed to the Welsh Assembly.
In 2018, the Welsh Government removed tolls on both Severn Bridge crossings, with the then Welsh secretary Alun Cairns claiming the change would boost the Welsh economy by £100m a year, creating "a growth corridor" from Cardiff, through Newport, to Bristol.
Conversely, the Welsh Government recently introduced a Clean Air Bill that paves the way for introducing road pricing in pollution hotspots, whilst Cardiff Council is considering a congestion charge.
Road Pricing in Northern Ireland
Under the Northern Ireland Act of 1998, responsibilities for parts of the transport system were passed to the Northern Irish Assembly.
There are no toll roads in Northern Ireland. Up to now, consistently low population density and traffic volumes have made congestion tolls unviable.
Statistics
In 2018, the average British driver spent 178 hours stuck in jams a year, costing each one £1,317 in lost time, which annually loses the British economy £7.9 billion. (INRIX, the world leader in mobility analytics, 2019)
According to a survey conducted by Ipsos MORI, 62% of the UK public support schemes that charge road users in towns and cities. However, the level of support drops if revenue gathered from such schemes is used to benefit motorists in the form of lower road tax, with support dropping to 39% of the general public. (Ipsos MORI, 2020)
In 2017, a predicted 62% of journeys were made by car. 26% were taken on foot, and a further 9% by train or bus. Over 40% of all trips were for leisure purposes. (Department for Transport, 2018)
Quotes
"We recommend a move to a widespread system of road pricing. The revenues raised could be used to reduce other motoring taxes. Such a move would generate substantial economic efficiency gains from reduced congestion, reduce the tax levied on the majority of miles driven, leave many (particularly rural) motorists better off, and provide a stable long-term footing for motoring taxes without necessarily raising net additional revenue from drivers."
"Road pricing is a simple concept that extends the common practice that is virtually ubiquitous in every other public sector of a market economy whereby prices are used to reflect scarcity, and to allocate resources to those that can best use them." – Professor Kenneth Button, The rationale for road pricing: standard theory and latest advances (2004)
Related articles