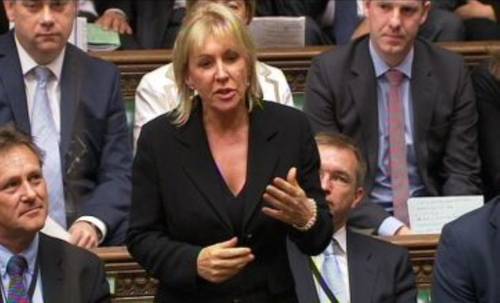 Dorries ready to stand on Tory-Ukip ticket
Nadine Dorries has flabbergasted Westminster once again – by suggesting she performs a one-woman Conservative-Ukip merger.
The Mid-Bedfordshire MP has proposed standing at the next general election as a joint candidate for both Ukip and the Tories.
Such a move is unprecedented in recent political history and comes less than a week after Dorries was formally restored to the Conservative party whip after her jungle adventures last autumn.
She used an interview with the Spectator to explain that "confused" members of her local association confessed their Conservative loyalties were coming in conflict with their feeling a "huge amount of empathy" with Ukip.
"I feel it would be a travesty if Ukip came in and took the seats off our councillors or indeed me when actually their policies and their beliefs are very much Ukip," she said.
"Because what we have done, we have thrown clothes off and they have picked them up and put them on."
The move placed intense pressure on David Cameron, as any official endorsement of Dorries' proposal could pave the way for a much more comprehensive tie-up between the two parties.
A number of other backbench right-wingers could be tempted to follow a similar approach, if given the green light by their party.
But Cameron quickly moved to slap down the idea, saying in a short press conference in the US: The Conservative party doesn't do pacts and deals. We are set to win the election outright."
Analysis by pollsters Survation suggested Ukip would secure eight MPs if it repeated its performance in this year's local elections in the 2015 general election.
Farage, who has announced he will stand as a candidate for parliament in two years' time, could be interested in constituencies like South Thanet, Boston and Skegness and the Forest of Dean.
Aylesbury, the seat of Europe minister David Lidington, is another potential Ukip target. The minister told politics.co.uk yesterday he did not fear being ousted from the right because he believed Ukip's support was a protest vote.
"The one thing I know is if you look at the polling research it shows people who have been voting for Ukip are not doing so primarily because of Europe," he said.
"They're doing so because of a frustration with all the main political parties, but also because of concerns about the economy."
Labour's shadow leader of the House Angela Eagle made clear any decision to let Dorries get her way would lead to instant ridicule from the opposition, as she said a Labour candidate suggesting the same thing would be "auto-excluded".
"For David Cameron to give the Conservative whip back to Nadine Dorries and then have her publicly considering standing for Ukip just a week later shows just how weak he is," she commented.
"He can't lead his MPs on Europe – but he's too weak to take action against them as well."
Related articles