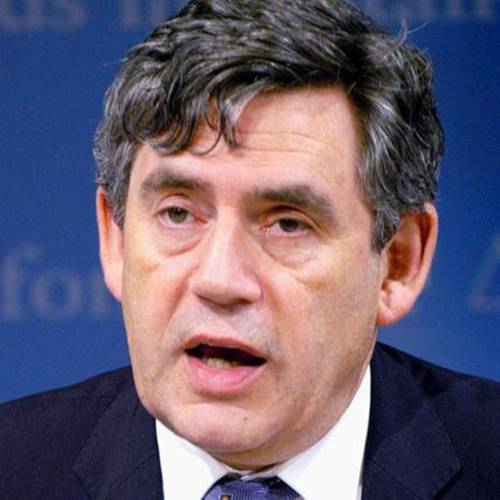 Brown, Gordon
Overview
Gordon Brown served as Prime Minister of the United Kingdom of Great Britain and Northern Ireland from 2007 to 2010. Under his predecessor and 'frenemy', Tony Blair, he spent ten years as Chancellor of the Exchequer. Brown is the most recent Scotsman and Labour politician to have served as Prime minister.
Alongside James Callaghan and Sir Alec Douglas-Home, he never won a General Election as Prime Minister.
Prime Minister
In 2007, after much speculation, Tony Blair stepped down as Prime Minister and Labour leader, opening the door for Gordon Brown – his Chancellor and heir-apparent. Brown was elected unopposed as Labour leader and was asked by the Queen to form a government shortly after.
Initial opinion-polls favoured Brown's leadership and there was much speculation that he would call a snap General Election. But after much delay Brown decided against the idea.
Early in 2008, Brown experienced the first of many major financial crises during his premiership, with the run on Northern Rock. Brown responded by nationalising the bank.
After the financial crisis of 2008/9, Brown introduced a number a rescue packages to keep the banks and the economy afloat. Brown's reaction to the crisis was hailed as the model to follow. But in an infamous slip he claimed to have 'saved the world'.
Despite his gaffes, Brown's managerial style proved reassuring in the face of global chaos. But the 'Brown Bounce' was not sustained for long and following the 2010 General Election he was ousted from 10 Downing Street by the first coalition government in 70 years.
What is Gordon Brown doing now?
After leaving Downing Street, Gordon Brown stayed on as a Member of Parliament until stepping down in 2015. His Parliamentary seat was subsequently captured by the Scottish National Party.
In July 2012, Brown was named by UN Secretary General Ban Ki-Moon as a United Nations Special Envoy on Global Education. In this role, he chaired the International Commission on Financing Global Education Opportunity.
In 2014, Brown played a prominent role in the campaign to maintain the Union during the 2014 Scottish referendum, and frequently still comments on the matter. In late 2020, Brown declared that it would soon be impossible to hold the UK together within the 'straitjacket of a centralised state'.
Political career
Brown was first elected to the safe Labour seat of Dunfermline East at the 1983 General Election. At this election, Labour had won their lowest share of seats for 60 years and were now facing up against Margaret Thatcher with a formidable majority.
However, Brown soon found comfort in his friendship with another young MP ands his office-partner: the newly-elected MP for Sedgefield, a 30-year-old Tony Blair.
Together, Brown and Blair formed a formidable partnership which saw them rise through the ranks of the party in the late eighties and early nineties.
Brown joined the shadow Cabinet in 1989 as Shadow Secretary of State for Trade, and was promoted to Shadow Chancellor of the Exchequer in 1992.
When then-Labour leader, John Smith, died of a heart attack in 1994, Brown and Blair vied for the leadership. However – as the legend goes – a deal was struck in a restaurant in Islington called Granita, that said Blair would run for the leadership in exchange for powers which would make Brown the strongest Chancellor in history.
In 1997, 'New Labour' were swept into power in a landslide. As Chancellor, Brown announced the independence of the Bank of England. He forged a reputation as an 'iron chancellor' determined to end what he described as cycles of 'boom and bust'.
But cracks were beginning to show in the Brown-Blair duopoly. The first major splitting point was over over Britain's entry into the Euro. Blair allegedly supported Britain's entry, Brown did not. This gap between Number 11 and 10 Downing Street grew steadily over time and, by 2006/2007, Brown's supporters increasingly asked for Blair to give a timeline for his inevitable exit .
In 2007, Blair resigned, and Brown became Prime Minister on 27 June 2007.
Before politics
Brown read History at the University of Edinburgh. Having gained a First Class honours degree and a number of prizes for his studies, Mr Brown became the youngest ever Rector of Edinburgh University in 1972.
In his early working life, Mr Brown spent time as a university and college lecturer and also wrote a number of books. His book on James Maxton is about the early Labour MPs and their struggles. 'Values, Visions and Voices' is a study of the idealism and zeal of Labour's early thinkers. And 'The Real Divide', written with Robin Cook, was a study of poverty and inequality.
He later worked as a television journalist before being elected to Parliament.
Personal life
Born in Scotland in 1951, Gordon Brown is the second of three sons. He grew up in the town of Kirkcaldy, an industrial centre famed for its linoleum and mining industries. Like many other boys in Scotland, football was Mr Brown's passion. A keen Raith Rovers supporter from childhood, he earned pocket money by selling programmes for the team. He also produced a newspaper with his brothers, which they sold for charity.
Just before he went to university, Mr Brown injured his eye playing for his school team at rugby which eventually resulted in detached retinas in both eyes. He spent much of his early years at university in hospital or recuperating.
Brown married Sarah in 2000. The couple's relationship started after sharing a flight from London to Scotland for the Scottish Labour Party conference in 1994. They have two sons.
Things you might not know about Gordon Brown
He once courted with royalty
For a time at University, Brown was romantically involved with an exiled Romanian princess, Margarita du Romaine.
'The Brown Sugars'
After graduating in 1972, Brown was elected as Edinburgh University's rector. His campaign was bolstered by the 'Brown Sugars' – three mini-skirted fans who followed him to photo-shoots wearing T-shirts emblazoned with the slogan 'Gordon for me'.
Further details
Twitter — @OfficeGSBrown
Personal Website: http://www.gordonandsarahbrown.com/
Related articles