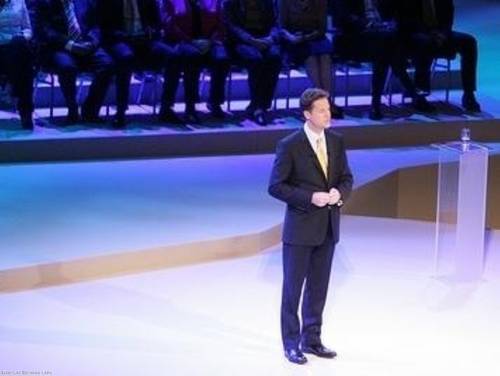 Clegg: I am not the kingmaker
The British people, not the Liberal Democrats, will decide which party forms the next government, Nick Clegg has told his party's spring conference.
The narrowing Conservative lead in the polls has heightened speculation about a hung parliament – and the potentially decisive impact Lib Dem support for either Gordon Brown or David Cameron could have in such a scenario.
Seeking to address incessant questions about what the Lib Dems would do, Mr Clegg told delegates at his party's spring conference in Birmingham that the election is not a time for politicians to "play footsie" with each other.
"When people understandably ask me these things, I keep coming back to the same simple truths: I am not the kingmaker," Mr Clegg said.
"The 45 million voters of Britain are the kingmakers. They give the politicians their marching orders, not the other way round. It's called democracy."
The Lib Dems are seeking to highlight their commitment to fairer taxes, a new economy where "the greed of bankers" does not reign supreme and a "fair, open and transparent politics" following "the gross betrayal of the expenses scandal".
"No one can guarantee what the election result will be. But I can guarantee what we will always fight to deliver," he added.
"And if you like what we say, if you share our values, if you want fair taxes, a fair start in life for your child, a fairer economy, and a new, fair politics – vote for it."
Related articles