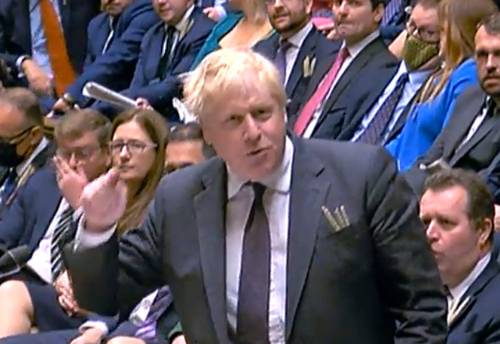 Best of Prime Minister's Questions 2021
Prime Minister's Questions is one of the highlights of the parliamentary week, allowing Boris Johnson and Keir Starmer to engage head to head in a battle of barbs.
While the year started slowly, with covid affecting the number of MPs who could turn up to the debates, there have been more than a few standout moments over the year.
Here are some of the best of PMQs.
'You can always tell when he's losing'
Priti Patel's policing bill, pushed through in the aftermath of the Sarah Everard murder, has been controversial to say the least. Johnson was forced to defend it, saying it would protect women. But QC Keir Starmer was keen to go through the detail of the bill, and when backed into a corner Johnson lashed out, leading to Starmer joking "You can always tell when he's losing".
Sleaze and cronyism
When you think of the government sleaze stories, you probably think of the Owen Paterson scandal that rocked parliament in November. But back in April the prime minister was embroiled in a row over who had paid for the Downing Street refurbishment. Months later, we discovered the prime minister knew all along…
'The hungrier she gets!'
It was Johnson's turn to be on the front foot after Starmer's botched reshuffle following the May elections. The prime minister jibed about Starmer's deputy leader Angela Rayner, who was offered a grand total of six positions despite being rumoured to be out the door…
'One time only!'
Ed Miliband returned to the despatch box at PMQs with both Starmer and Rayner off. The former Labour leader gave a confident and comedic performance, promising it was for "one time and one time only!".
Hoyle and Johnson clash
Tensions were high following the Owen Paterson scandal, and Johnson, trying to avoid questions, repeatedly broke parliamentary procedure by asking the leader of the opposition questions instead. After multiple warnings, Hoyle angrily shouted: "I need this House to gain respect."
The Christmas party
The biggest story of the past few weeks led to a memorable encounter in PMQs. The Conservatives had pulled all their morning news-round speakers following a leaked video of Allegra Stratton joking about a Downing Street Christmas party during a mock press conference. Despite the evidence, Johnson maintained that he knew nothing about the party.
Related articles