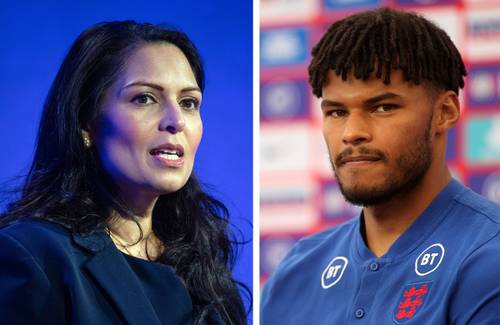 England star Mings rounds on Patel for 'stoking the fire' of racism
England defender Tyrone Mings has hit out at the home secretary, Priti Patel, over the racism storm that followed England's defeat to Italy in the Euro 2020 final.
Mings accused Patel of pretending to be disgusted by the abuse of England players, having dismissed taking the knee as "gesture politics" ahead of the tournament.
Marcus Rashford, Jadon Sancho and Bukayo Saka all received racist abuse on social media platforms after missing penalties in the shootout with Italy after the match had finished 1-1.
A mural of Rashford in Manchester was defaced, but has subsequently been covered up by messages of good will.
Patel was one of a number of politicians to condemn the abuse of England players, tweeting: "I am disgusted that England players who have given so much for our country this summer have been subject to vile racist abuse on social media.
"It has no place in our country and I back the police to hold those responsible accountable."
Mings, who played twice during the tournament, quoted her tweet and said: "You don't get to stoke the fire at the beginning of the tournament by labelling our anti-racism message as 'Gesture Politics' & then pretend to be disgusted when the very thing we're campaigning against, happens."
In June, Patel defended the right of England fans to boo when players took the knee ahead of kick-off.
She told GB News: "I just don't support people participating in that type of gesture – gesture politics, to a certain extent, as well."
Labour deputy leader Angela Rayner said Patel had poured petrol on the fire.
She tweeted: "Let me be clear. The prime minister and the home secretary gave license to the racists who booed the England players and are now racially abusing England players.
"Boris Johnson and Priti Patel are like arsonists complaining about a fire they poured petrol on. Total hypocrites."
The prime minister said those abusing England players "should be ashamed of themselves".
Related articles